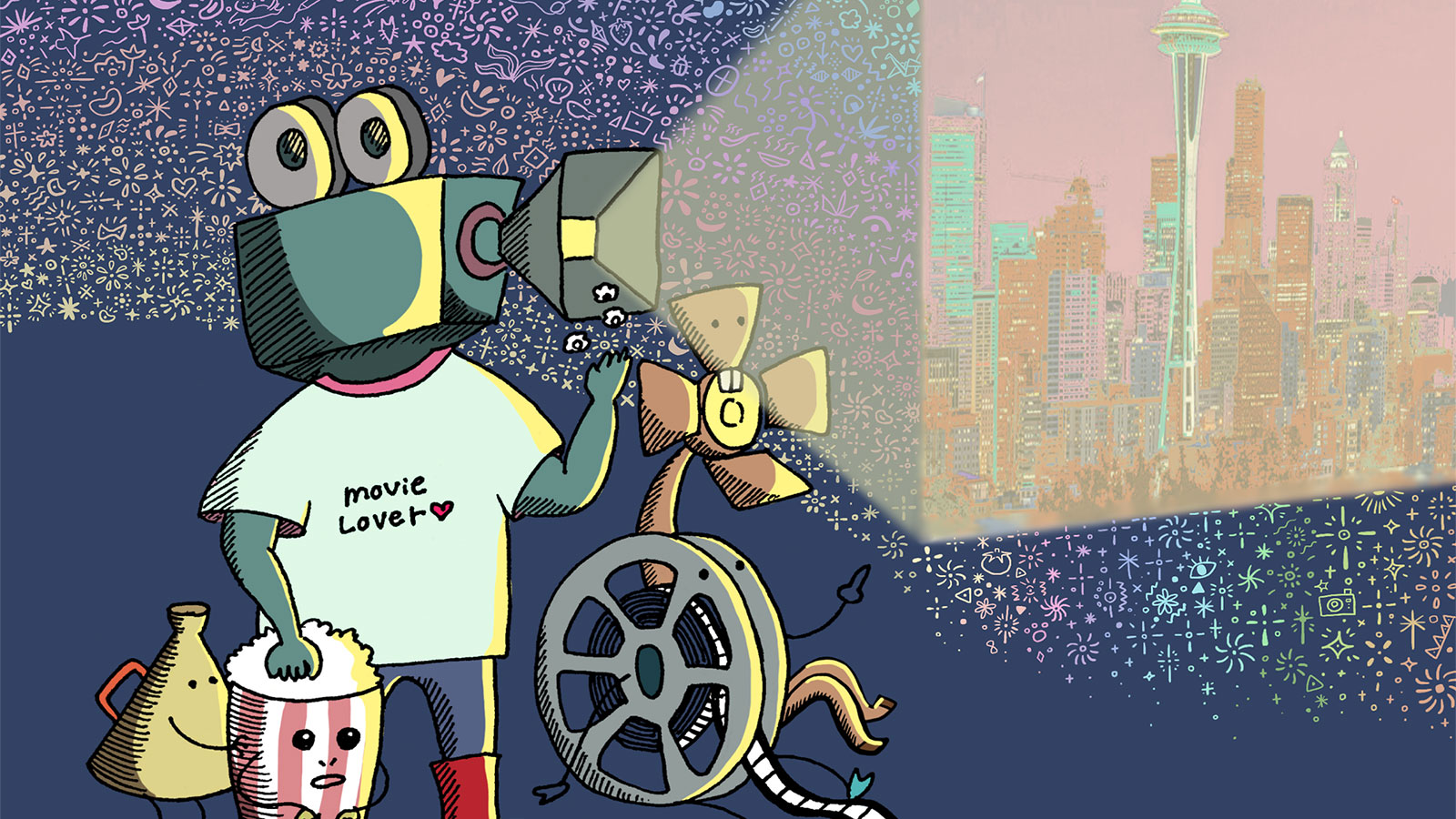 STAY HOME SWEET HOME WITH CHILDREN'S FILM FESTIVAL SEATTLE!
Children's Film Festival Seattle 2020's cinema programs at Northwest Film Forum were cut short by the coronavirus public health crisis — but now we're
back online
to close out the festival with web-based screenings of seven short film programs, and one award-winning feature film, streamed straight into your home sweet home!
The programs, showcasing the best and brightest in visual storytelling for children, include 60 animation, live-action and documentary films from 27 nations, all centered on the experience of childhood.
The films also provide, in this time of staying safe at home, a window to the greater world, inspiring empathy, understanding, and global awareness.
All screenings will come with bonus activities — including coloring pages, discussion guides and links to filmmaking resources — that children and families can do together to build on the topics and fun found in the films.
Festival highlights include:
Gentle animation for the youngest viewers
Action-packed fare appropriate for older kids and adults
A rollicking all-ages collection of films about cats
A topical program centering on urgent environmental issues
An all-Spanish-language program from Latin America, for native and student speakers
The acclaimed Kenyan feature film, Supa Modo
Join us
May 13 to 17
, to see the world and feed your minds. We aim to provide family screen time's finest hour with these international programs.
All screening info can be found at nwfilmforum.org.
Hope to see you there!
Love for Children's Film Festival
"They'll completely blow up your kids' idea of what movies are — and not just what kind of stories movies tell, but how they're told and who tells them." – Gemma Alexander, ParentMap
"CFFS's slate of international films features visual storytelling centered on narratives about childhood—the way that children view the world, deal with adult issues, and work as agents of change in their communities. … Go explore. I guarantee you'll see something you like." – Leilani Polk, The Stranger
"The goal is to foster understanding, empathy and a nuanced worldview. It seems to be going pretty well so far." – Chris Talbott, The Seattle Times
FESTIVAL HIGHLIGHTS IN 2020
A cat-tastic opening night program of feline-centric animation from eight countries, with lobby fun, special treats and more.
Q and A's with filmmakers from around the world.
Fabulous feature films from South Africa, Australia, Germany, The Netherlands, and the USA.
Indigenous Showcase screening, presented in collaboration with Longhouse Media.
Emphasis on the planet with environmental shorts programs for older and younger kids, plus the feature documentary Microscopic Madness.
Rainbow Roar — a shorts program devoted to celebrating LGBTQ kids.
Two showcases of youth-made films in Nascent Creations and 90-Second Newbery Film Festival.
Interactive installation in the lobby and filmmaking workshops give kids a chance to get hands-on.
COVID-19 UPDATE TO OUR COMMUNITY
At Northwest Film Forum, we hold the safety and health of our community and patrons as our highest value, and keeping this in mind, we have made the very hard decision to postpone all screenings of the festival, from March 6 through March 8. This will include all Closing Day festivities at Rainier Arts Center. As a further precautionary measure, we are also suspending field trip screenings for school groups until further notice.
It is important to note that children and youth have not been high-risk groups for this virus, and NWFF has been closely following public health recommendations released by the city, county, and state regarding COVID-19. Those details can found here. Nonetheless, due to the fast-developing news about COVID-19 and its impact on the city, we feel that postponing is the best course of action for high-traffic events in our space.
Stay tuned for
a special presentation of Children's Film Festival Seattle 2020 online, May 13-17
! The remaining CFFS closing weekend screenings are being rescheduled as a week of online screenings. We cannot wait to welcome large family audiences back to Northwest Film Forum for public programs, but until then, you can find us on the web.
Until then, we hope you will all stay safe, calm and healthy — and watch great movies with your kids.
With best always,
Elizabeth Shepherd, Director, Children's Film Festival Seattle
Vivian Hua, Executive Director
Chris Day, Managing Director, Northwest Film Forum